Outdoors Deck Floor
Showroom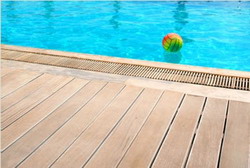 Outdoor deck, has a long shelf life, moisture-resistant, the scratches and acids. Peels. Species: massaranduba, Iroko, bankirai, merbau, lartzino, pine (in natural and brown colors). Also, there is tile Deck by Kemp and ipe.
Appropriate for swimming pools, gardens and decorations outside homes and boats.
* Placement by skilled craftsmen.
Neowood W.P.C. (Material Wood and thermoplastic materials) is 100% recyclable and friendly to the environment. A long life with almost zero maintenance costs. Shows resistance to rot and pests in almost zero absorption of moisture, stability dimensions. Has the sight and sense of wood.
*Placement by professionals.